Il World Press Photo è il premio fotogiornalistico più prestigioso che esista. Ad aggiudicarsi il riconoscimento principale dell'edizione 2007 del premio è stato il fotografo statunitense Spencer Platt con un'immagine a colori, realizzata in Libano nell'agosto del 2006 il giorno del cessate il fuoco tra Hezbollah e Israele, che mostra un gruppo di giovani libanesi a bordo di un'auto in una strada di Beirut devastata da un bombardamento israeliano e che, secondo la giuria indipendente formata da esperti scelti tra i più accreditati in campo internazionale, "presenta la complessità e le contraddizioni della vita reale, in mezzo al caos, e ti fa vedere al di là dell'ovvio".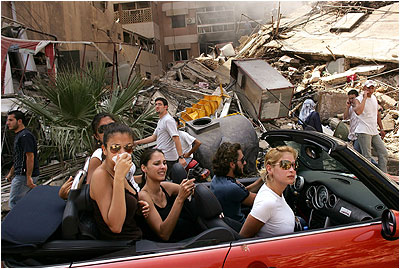 World Press Photo of the Year 2006
Spencer Platt, USA, Getty Images
Young Lebanese drive through devastated neighborhood of South Beirut,
15 August
Per l'edizione numero 50 del concorso, promosso ogni anno dalla World Press Photo Foundation (fondata nel 1955), la giuria ha esaminato ben 78.083 immagini, inviate da 4.460 fotografi professionisti di 124 paesi. E ha premiato 58 fotografi, per 10 categorie diverse, provenienti da 23 paesi:
2007 World Press Photo Jury
Copyright Allard de Witte,
Hollandse Hoogte
Argentina, Australia, Brasile, Canada, Danimarca, Francia, Germania, Ungheria, Israele, Italia, Giappone, Messico, Olanda, Nigeria, Norvegia, Palestina, Cina, Sud Africa, Spagna, Svezia, Regno Unito e Stati Uniti.
Tra i vincitori nelle diverse categorie (di seguito pubblichiamo l'elenco completo) si segnalano cinque fotografi italiani, che si sono aggiudicati tre primi premi, un secondo e un terzo premio: Paolo Pellegrin, primo premio "General News" con un reportage sulle vittime di un attacco missilistico israeliano in Libano; Max Rossi, primo premio "Sports Actions", con un reportage sui campionati mondiali di ginnastica in Danimarca; Davide Monteleone, primo premio Storie nella categoria "Spot News" con un reportage sui bombardamenti israeliani in Libano; Massimo Berruti, secondo premio Storie "Contemporary Issues", con un lavoro su un residence ai margini di Roma; Lorenzo Cicconi Massi, terzo premio nella categoria "Sports Features" con un lavoro sulla scuola sportiva Shichahai di Pechino.
Spencer Platt, l'autore del World Press Photo of the Year 2006, riceverà 10.000 euro durante la cerimonia di premiazione che si terrà ad Amsterdam il prossimo 22 Aprile e che sarà preceduta da tre giorni di incontri ed esposizioni, tra cui una personale del vincitore e una collettiva di fotogiornalisti africani sui cambiamenti climatici in Africa. Le mostre saranno aperte al pubblico dal 24 aprile al 17 giugno e poi, come d'abitudine, la mostra con i vincitori delle diverse categorie sarà presentata in tutto il mondo, quest'anno in 85 paesi.
Per maggiori dettagli: www.worldpressphoto.nl/exhibitions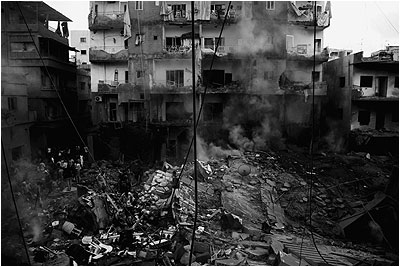 1st prize Spot News Stories
Davide Monteleone, Italy, Contrasto
Israeli bombings of Lebanon, July
WORLD PRESS PHOTO OF THE YEAR 2006
Spencer Platt, USA, Getty Images
Young Lebanese drive through devastated neighborhood of South Beirut, 15 August
SPOT NEWS SINGLES
1. Akintunde Akinleye, Nigeria, Reuters
Man rinses soot from his face after gas pipeline explosion, Lagos, Nigeria, 26 December
2. Arturo Rodríguez, Spain, The Associated Press
Migrants wait for transportation, Tenerife, Spain, 7 September
3. Mohammed Ballas, Palestinian Territories, The Associated Press
Public execution of suspected collaborator, Jenin, West Bank, 13 August
Honorable mention:
Jeroen Oerlemans, The Netherlands, Panos Pictures
Paramedics show the dead body of a baby to the press after Israeli bombing of Qana, Lebanon, 30 July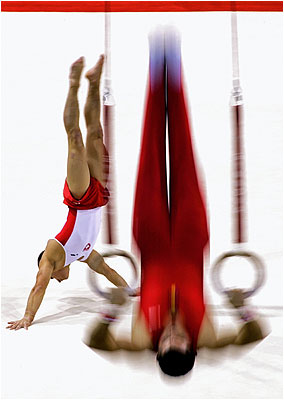 1st prize Sports Action Singles
Max Rossi, Italy, Reuters
World Championship Gymnastics, Denmark, 14 October
SPOT NEWS STORIES
1. Davide Monteleone, Italy, Contrasto
Israeli bombings of Lebanon, July
2. Agnes Dherbeys, France, Cosmos/Eve
Protests against absolute monarchy, Nepal, April
3. Yonathan Weitzman, Israel, Reuters
Forced evacuation of Amona outpost, West Bank, 1 February
Honorable mention
Joao Silva, South Africa, The New York Times
Sniper attack, Karmah, Iraq, 31 October
GENERAL NEWS SINGLES
1. Paolo Pellegrin, Italy, Magnum Photos for Newsweek/The New York Times Magazine
Victim of Israeli rocket attack, Tyre, Lebanon, 6 August
2. Jan Grarup, Denmark, Politiken/Newsweek
Darfur refugees, Sudan-Chad border, November
3. Daniel Aguilar, Mexico, Reuters
Accused burglar, Oaxaca, Mexico, 18 October
GENERAL NEWS STORIES
1. Zsolt Szigetváry, Hungary, for MTI
Riots in Budapest, Hungary, September-October
2. Peter van Agtmael, USA, Polaris Images
Night raids, Iraq, January-March
3. Moises Saman, Spain, Newsday
Presidential elections, Haiti, February
PEOPLE IN THE NEWS SINGLES
1. Oded Balilty, Israel, The Associated Press
Settler woman struggles with Israeli security officer, Amona outpost, West Bank, 1 February
2. Christopher Anderson, Canada, Magnum Photos for Newsweek
President Hugo Chavez of Venezuela, 27 November
3. Stephanie Sinclair, USA, NPR
Family flee Israeli bombings, Lebanon, 27 July
PEOPLE IN THE NEWS STORIES
1. Q. Sakamaki, Japan, Redux Pictures for Newsweek
Sri Lanka: War without end, June
2. Arturo Rodríguez, Spain, The Associated Press
Tourists on Tejita Beach help migrants, Tenerife, Spain, 30 July/3 August
3. Espen Rasmussen, Norway, Verdens Gang
Kashmir earthquake aftermath, January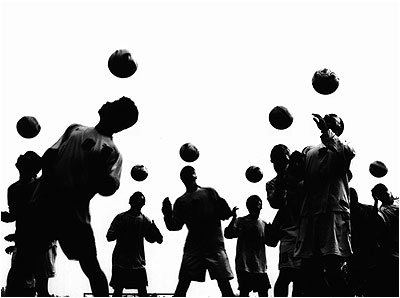 3rd prize Sports Features Singles
Lorenzo Cicconi Massi, Italy, Contrasto
Shichahai Sports School, Beijing
SPORTS ACTION SINGLES
1. Max Rossi, Italy, Reuters
World Championship Gymnastics, Denmark, 14 October
2. Alex Livesey, United Kingdom, Getty Images for Sports Illustrated
Peter Crouch of Liverpool scores against Galatasaray, 27 September
3. Jeffrey Phelps, USA, The Associated Press
Milwaukee Brewers against San Francisco Giants, 4 May
SPORTS ACTION STORIES
1. Peter Schols, The Netherlands, Dagblad De Limburger/GPD/Reuters
Zidane's exit from World Cup final, Berlin, 9 July
2. Craig Golding, Australia, Sydney Morning Herald
Sports portfolio
3. Steve Christo, Australia, Sydney Morning Herald
Sports portfolio
SPORTS FEATURES SINGLES
1. Franck Seguin, France, Deadline Photo Press
Freediving world champion Guillaume Néry
2. Nicolas Gouhier, France, Abaca USA for Sports Illustrated
Arena Sprint swimming competition, Rouen, France, 3 November
3. Lorenzo Cicconi Massi, Italy, Contrasto
Shichahai Sports School, Beijing
SPORTS FEATURES STORIES
1. João Kehl, Brazil, Cia de Foto
Boxing gym, Sao Paulo
2. Pep Bonet, Spain, Panos Pictures
War amputees' football team, Sierra Leone
3. David Klammer, Germany
World Cup fans, Germany, July
CONTEMPORARY ISSUES SINGLES
1. Walter Astrada, Argentina, World Picture Network
Victim of violence against women, Guatemala
2. Daniel Beltrá, Spain, Zuma Press for Greenpeace
Soy fields in the Amazon, Brazil
3. Per-Anders Pettersson, Sweden, Getty Images for Stern
Esther, child sex worker with her friends, Kinshasa, DRC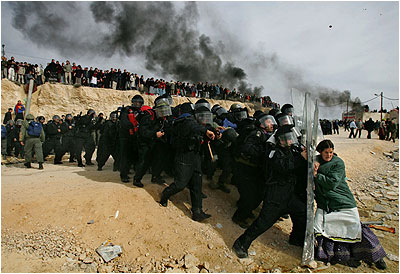 1st prize People in the News Singles
Oded Balilty, Israel, The Associated Press
Settler woman struggles with Israeli security officer, Amona outpost,
West Bank,1 February
CONTEMPORARY ISSUES STORIES
1. José Cendón, Spain
Psychiatric hospital inmates, Burundi and DRC
2. Massimo Berruti, Italy, Grazia Neri
Condemned residence, Rome
3. Bruno Fert, France, In Visu
Tents for homeless, Paris
DAILY LIFE SINGLES
1. Spencer Platt, USA, Getty Images
Young Lebanese drive through devastated neighborhood of South Beirut, 15 August
2. David Butow, USA, Redux Pictures for US News & World Report
Street corner, New York
3. Steven Achiam, Denmark, Dagbladet Børsen
Bangladeshi migrant worker, Kuwait
DAILY LIFE STORIES
1. David Guttenfelder, USA, The Associated Press
The lonely man, Tokyo
2. Jon Lowenstein, USA, Aurora Photos
Chicago South Side
3. Moises Saman, Spain, Newsday
Afghanistan
PORTRAITS SINGLES
1. Nina Berman, USA, Redux Pictures for People
Wounded US Marine returns home from Iraq to marry
2. Wang Gang, People's Republic of China
Yi shepherd, Sichuan province, China
3. Damon Winter, USA, Los Angeles Times
Clint Eastwood
PORTRAITS STORIES
1. Nicolas Righetti, Switzerland, Rezo
"Father of the Turkmen" President Nyazov of Turkmenistan
2. Mathias Braschler & Monika Fischer, Switzerland, Grazia Neri for L'Equipe/Guardian Weekend/Sports Illustrated/Stern Faces of football
3. Erin Trieb, USA
Texas candidate for Governor Kinky Friedman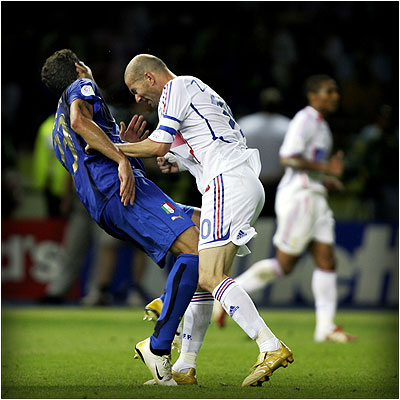 1st prize Sports Action Stories
Peter Schols, The Netherlands, Dagblad De Limburger/GPD/Reuters
Zidane's exit from World Cup final, Berlin, 9 July
ARTS AND ENTERTAINMENT SINGLES
1. Espen Rasmussen, Norway, Verdens Gang
Collecting flowers for midsummer night celebrations, Latvia
2. Carolyn Cole, USA, Los Angeles Times
Performer Debbie Davis prepares for her show, New Orleans
3. Paul Zhang, People's Republic of China, The Beijing News
Blind student learning latin ballroom dance, Beijing
ARTS AND ENTERTAINMENT STORIES
1. Denis Darzacq, France, Agence Vu
Street dancers, Paris
2. Magnus Wennman, Sweden, Aftonbladet
Miss Senior Sweetheart of America Pageant
3. Meyer, France, Tendance Floue for VSD/La Vie
Traveling cinema
NATURE SINGLES
1. Michael Nichols, USA, National Geographic Magazine
Serval cat, Zakouma National Park, Chad
2. Fayez Nureldine, Palestinian Territories, Agence France-Presse
Migration of starlings, Algeria
3. Jørgen Flemming, Denmark
Buzzards fight over a hare, Denmark
NATURE STORIES
1. Paul Nicklen, Canada, National Geographic Magazine
Leopard seal hunting, Antarctica
2. Chang He, People's Republic of China, Oriental Morning Post
Chinese zoos
3. Maria Stenzel, USA, for National Geographic Magazine
Chinstrap penguins, South Sandwich Island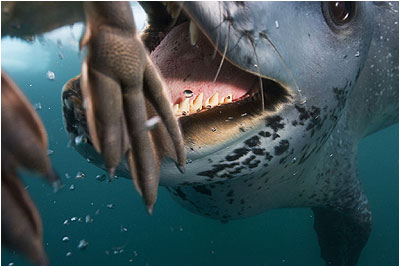 1st prize Nature Stories
Paul Nicklen, Canada, National Geographic Magazine
Leopard seal hunting, Antarctica